Pertubuhan Penderma Darah Malaysia (Sedarah Malaysia)
Malaysia Blood Donors Society
馬来西亜捐血人拹会
THE ASSOCIATION
The Pertubuhan Penderma Darah Malaysia or Sedarah Malaysia in short, is a registered body, being registered with the Registrar of Society Malaysia via registration number: PPM-007-14-13082012
The Organisation formed to promote the interest and welfare of members throughout the nation, irrespective on their race, religion, sex or political inclination.
There are a good numbers of blood donors in the country and it is hoped that many will sign in as members so it can be a body respected and recognized by the general public as a charitable organization.
Sedarah Malaysia is not a profit making organization. The organization derives its funds from members' subscription, donations and fund-raising activities.
Sedarah Malaysia will also negotiate with public and private sectors for the granting of special privileges to its members as their token of appreciation for what its members contribute to the community and as an incentives for them to continue to be blood donors.
OBJECTIVES
The overall objective of Sedarah Malaysia is to unite all blood donors in Malaysia for their social and welfare interests while contributing toward a more conscious and civic minded citizens of the nation, its specific objectives are to:
Foster closer ties among blood donors
Safeguard the interest and welfare of its members, especially pertaining to their health and health related activities.
Instill in the members the virtue of donating blood and the healthy benefit gained from such a practice.
Co-operate with the authority to ensure only clean and disease-free blood is donated
Disseminate information through seminar, forum and the like on practical healthy living
Acquire facilities and properties for the development and growth of the organization
Engage in worthwhile projects that will bring benefit to all members in general
ORGANISATION
The absolute power of the organization rests with the General Assembly which normally holds a meeting every year. However, the day-to-day business is run by the Working Committee which is elected by the General Assembly. The Working Committee is headed by a Chairman, assisted by a Deputy. Other members of the Working Committee are the Secretary, Assistant Secretary, Treasurer, and 2 committee members.
To further strengthen the organization and increase its effectiveness in planning and implementation of its activities, several sub-committees will be set up. The activities of these sub-committees include membership drive, finance, human development, members privilege, publication and social and welfare. When necessary the Working Committee may set up and ad-hoc committee to deal with specific matter of significance.
MEMBERSHIP
Membership of the organization is open to all Malaysia who have donated blood and an entrant fee & annual fee is charged.
ACTIVITIES
REPRESENTATION
One important role of the organization is to represent the blood donors' community in presenting its view, recommendations and expectations to the government and its agencies as well as other relevant bodies.
This function is vital since blood donor interest and welfare affected directly or indirectly by the action and policy of the government through its administrative procedures.
Thus, representatives of the organization will have consultations with relevant authorities whenever necessary.
Similar meeting will also be held with private bodies, whose action and activities may have some bearing on the interest and welfare of blood donors.
INCENTIVE PLAN
At present government hospitals and clinics offer priorities and privileges to blood donors. This organization appreciates this kind gesture as it serves as incentives to its members. From time to time the organization will approach other agencies and private bodies or firms to negotiate for similar scheme for its members. We regard these offers as a show appreciation on the part of the public, towards the voluntary act of donating blood.
CO-ORDINATION
The activities of the organization do not replace the activities of other association, like the Red Crescent Society in dealing with blood donors.
While other associations may be put up a campaign to recruit new members and giving out awards to the donors, this organization safeguards the donor's interest and welfare.
In addition the organization will co-ordinate its activities with other associations for the recruitment of new donors and assist to gathering members to donate blood in times of emergency or when the level of blood is low in the bank.
OTHER ACTIVITIES
From time to time organization will organize social functions to bring members to get to know each other better. Tour to places of interest can also be included.
Seminars and dialogs on topics of healthy living will also be organized when the need arises. In fact any other activities which the members feel will benefit them can be arranged also.
PERTUBUHAN PENDERMA DARAH MALAYSIA (Sedarah Malaysia)
MALAYSIA BLOOD DONORS SOCIETY | 马 来 西 亚 捐 血 人 协 会
Tingkat 6-B02, Wisma Pahlawan,
Jalan Sultan Sulaiman,
50000 Kuala Lumpur.50000 Kuala Lumpur Tel: 03-2276 1010
Email: [email protected]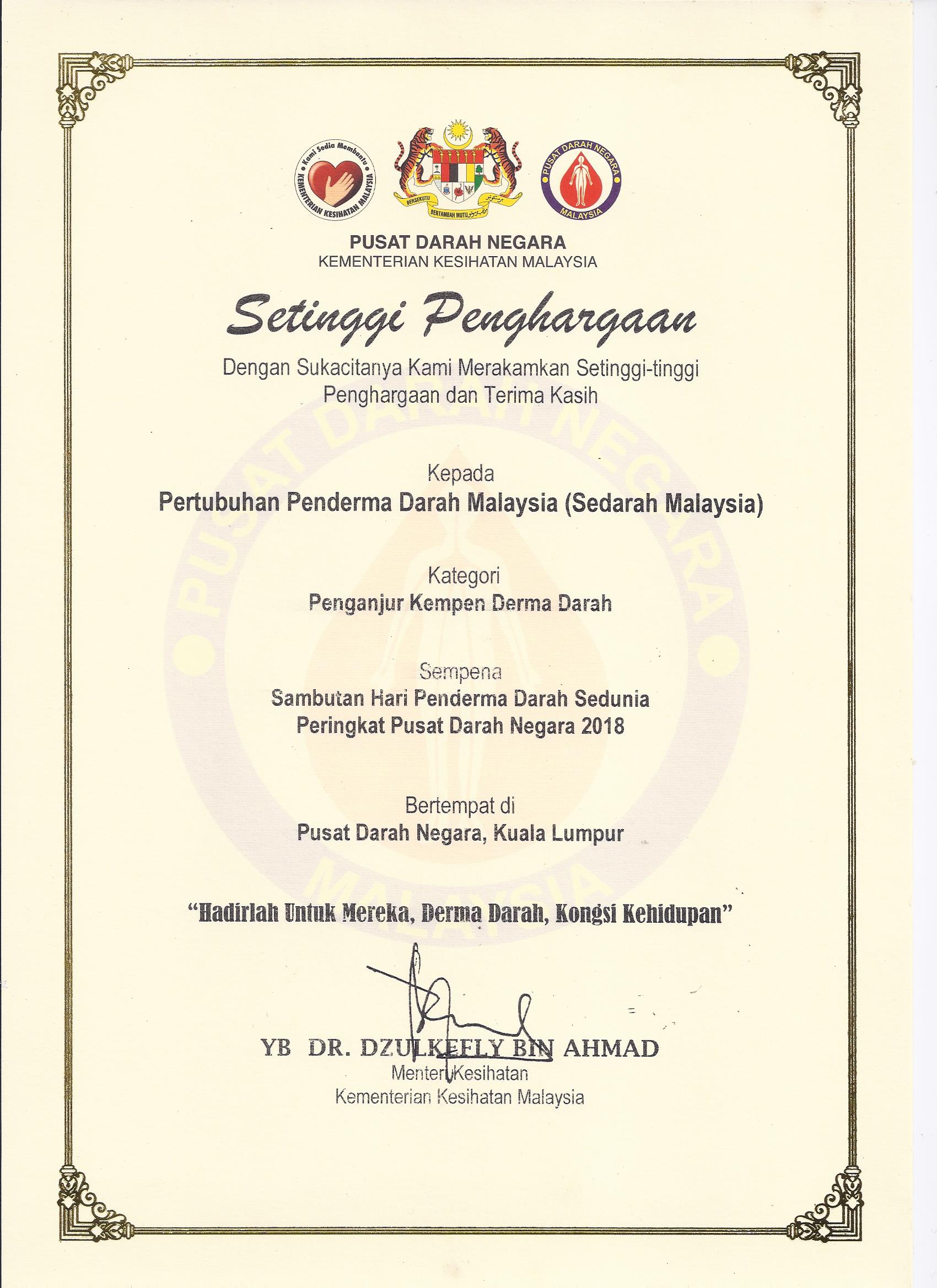 The award certificate of outstanding organizer of Blood Donation Campaign by the National Blood Centere (Pusat Darah Negara) duirng the recent World Blood Donor Day 2018 celebration.